UNSTABLE ROCK AND ITS TREATMENT SNOWY MOUNTAINS SCHEME
UNSTABLE ROCK AND ITS TREATMENT IN UNDERGROUND WORKS IN THE SNOWY MOUNTAINS SCHEME
ABSTRACT
The Snowy Mountains Hydro-Electric Authority has completed 76 miles of water tunnels longer than one mile, ranging in diameter from 11 to 24 ft, and also two large underground power stations. About three-quarters of the length of these tunnels are in granite, and the remainder is in metamorphosed sedimentary rocks.
Although these are essentially hard strong rock types, in many areas the rock mass is intersected by faults and zones of decomposition and is extensively jointed, requiring support during construction. Steel rib supports are used in the worst sections and rock bolts in broad areas of marginal quality rock as well as along localized weak zones.
The Authority's practice is to line with concrete all sections of tunnels with steel rib supports. In many tunnels the remaining rock has been left unlined. These sections are closely examined and all defects which could possibly lead to rock falls or erosion of weak seams when the tunnel is put into service as a water tunnel are located and treated. The main forms of treatment comprise grouted rock bolts, and pneumatically applied mortar both plain and reinforced with mesh.
EXTENT OF UNDERGROUND WORK
The Snowy Mountains Scheme makes extensive use of long tunnels to divert water from one catchment to another into storage and to take it from storage to hydro-electric power plants. Since construction of Guthega Project began in 1952, about 76 miles of tunnels longer than one mile and ranging in diameter from 11 to 24 ft, have been driven through hard rock, and Jindabyne-Island Bend Tunnel, 6.2 miles and 13 ft in diameter, is at present under construction. In addition, two large power stations, Tumut 1 and Tumut 2, have been built underground, involving, in each case, the excavation of a complex group of large chambers, tunnels and shafts (Fig.1, Table 1).
Tunnels
The tunnels are under high cover for most of their length, and are driven through granite or metamorphic rocks of variable but often quite good quality. These conditions permit the use of unlined tunnels where the quality of the rock is good enough, with considerable savings in cost and time for completion.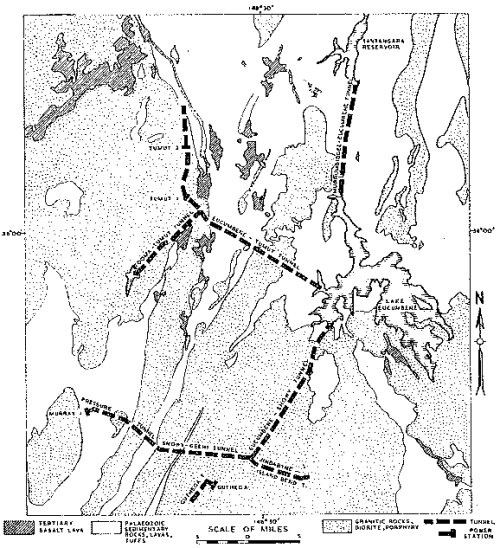 The choice between a lined or an unlined tunnel is made at the planning stage of the project. In nominally unlined tunnels specific sections, usually quite short, are designed in advance of excavation to be concrete lined.