Engineering Geology for the Snowy Mountains Scheme
The valley walls forming the abutments, however, are usually weathered to an important degree. The principal matters for investigation at these sites, therefore, are the nature and extent of the weathering in the abutments, and the structural soundness and water-tightness of the rock under the main foundations and abutments. Considerable investigation may also be required for spillways and river diversion works. Examples of some dam sites are given below.
Guthega Dam
.— Guthega Dam on the upper Snowy River was built in 1952-55. It is a concrete gravity structure, 110 feet in height from foundations to road level, with an overflow spillway (Figs. 3 and 8).
The rock at the site is grey biotite granite, with a distinctly gneissic structure. The rock was practically fresh in the river bed, but extensively weathered in both abutments to depths of 60 to 80 feet. The granite was intersected by many joints, the most numerous and persistent crossing the river at right angles and dipping steeply upstream. Weathering first penetrates along the joints, and then attacks the blocks which they enclose. In broad outline the excavation required for the dam foundations was governed by the degree of weathering of the granite; in detail it followed the jointing of the granite (Fig. 8). The irregularities produced by the excavation following the jointing provided a very good key for the base of the dam. For the spillway section of the dam, excavation was carried down to fresh granite. All weathered granite and loose rock were removed. Occasional thin weathered seams occurred along joints dipping below otherwise sound granite. These seams were cleaned out as far as possible and backfilled.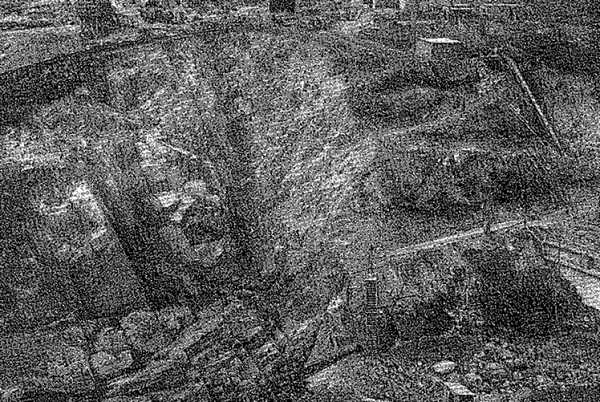 For the abutments, excavation was not carried so deeply, the foundations being granite in which joint blocks are slightly or moderately weathered. In the left abutment there is a nearly vertical fault striking parallel to the river. Near the surface there was about 8 feet of crushed rock and clay along the fault zone. This narrowed with depth, and at foundation level it was about 3 feet wide and composed of very compact water-tight crushed granite with some clay, and required no special treatment.
Tumut Pond Dam Site.
—Tumut Pond Dam site is situated on the Tumut River south of Cabramurra. The dam is a major unit of T.1 Project now under construction. It will be a concrete arch structure 285 feet in height above the river bed with a side channel spillway. The dam site is a V-shaped gorge in granite (Figs. 9 and 10). Outcrops are extensive at the lower levels of both banks, with bare rock scoured by floods rising steeply from the water's edge.